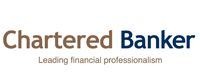 Chartered Banker Institute
The Chartered Banker Institute is the trading name of The Chartered Institute of Bankers in Scotland, the oldest banking institute in the world and the only remaining banking institute in the UK. We are unique in being entitled to award the "Chartered Banker" designation to our qualified members.

We develop and promote professional standards for bankers and provide world class professional qualifications for the financial services industry in the UK and overseas. In 2011, we launched the Chartered Banker Professional Standards Board to enhance and sustain professionalism in banking.

More information is available at
http://www.charteredbanker.com